Introduction to the book notes.
To inform my personal artistic research, I regularly indulge in a literary study of various subjects.
Giving the preference to primary resources, most of the texts are of philosophical or socio-political nature. While not having the pretention to participate in these domains' discourse, I nonetheless decided to extract and record passages that are relevant to my work. I read them from the point of view of a sculptor, looking for surprising and inspiring ideas to associatr to my own sculptural practice.
The book notes are not summaries of the books, I'm just saving ideas for myself, for later reflection, but I'm sharing them here.
An analysis of the nature, causes, and significance of violence in the second half of the twentieth century. Arendt also reexamines the relationship between war, politics, violence, and power.
Offering an accessibl
e introduction to post-war critical thought on the topic, 
Histories of Violence 
examines how many prominent theorists from Hannah Arendt to Frantz Fanon, Michel Foucault, and Slavoj Žižek have grappled with these questions.
The Wretched of the Earth is an analysis of the psychology of the colonized and their path to liberation. Bearing singular insight into the rage and frustration of colonized peoples, and the role of violence in effecting historical change.
Girard explores violence as it is represented and occurs throughout history, literature and myth. Girard's forceful and thought-provoking analyses of Biblical narrative, Greek tragedy and the lynchings and pogroms propagated by contemporary states illustrate his central argument that violence belongs to everyone and is at the heart of the sacred.
Sofsky pursues to answer questions regarding people's indulgence in violence. He argues that our propensity for violence is a reaction we have evolved as a response to our own mortality, and one which has taked many different forms in the course of human history. 
We are living under the administration of fear: fear has become an environment, an everyday landscape. Stock-market crises, undifferentiated terrorism, lightning pandemics, "professional" suicides…. Fear has become the world we live in.
Using history, philosophy, books, movies, Lacanian psychiatry, and jokes, Slavoj Žižek examines the ways we perceive and misperceive violence.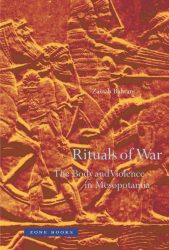 Rituals of War is an investigation into the earliest historical records of violence and biopolitics. In Mesopotamia, ancient (ca. 3000-500 BCE) Iraqi rituals of war and images of violence constituted part of the magical technologies of warfare that formed the underlying irrational processes of war. In Rituals of War, Zainab Bahrani weaves together three lines of inquiry into one historical domain of violence: war, the body, and representation.
From movies and other commercial entertainment to "extreme" weather and acts of terror, authors Brad Evans and Henry Giroux examine how a contemporary politics of spectacle–and disposability–curates what is seen and what is not, what is represented and what is ignored, and ultimately, whose lives matter and whose do not.
A series of conversations originally published in the New York Times and the Los Angeles Review of Books. Brad Evans and Natasha Lennard talk with a wide range of cutting edge thinkers–including Oliver Stone, Simon Critchley, and Elaine Scarry–to explore the problem of violence in everyday life, politics, culture, media, language, memory, and the environment. 
Georges Bataille
Visions of Excess, Selected Writings 1927-1939 (1985)
This collection of pre-war writings remains the volume in which Bataille's positions are most clearly, forcefully, and obsessively put forward. This book challenges the notion of a "closed economy" predicated on utility, production, and rational consumption, and develops an alternative theory that takes into account the human tendency to lose, destroy, and waste.