Baroque Putto Masterclass
Challenge your limits and develop your skills. This exercise will forever change the way you look at sculptures.
In the ancient classical world of art, Putti were winged infants that were believed to influence human lives. They are a classical motif found primarily on child sarcophagi of the 2nd century, where they are depicted fighting, dancing, participating in Bacchic rites, playing sports, etc. The putto disappeared during the Middle Ages and was revived by Donatello in Florence in the 1420's.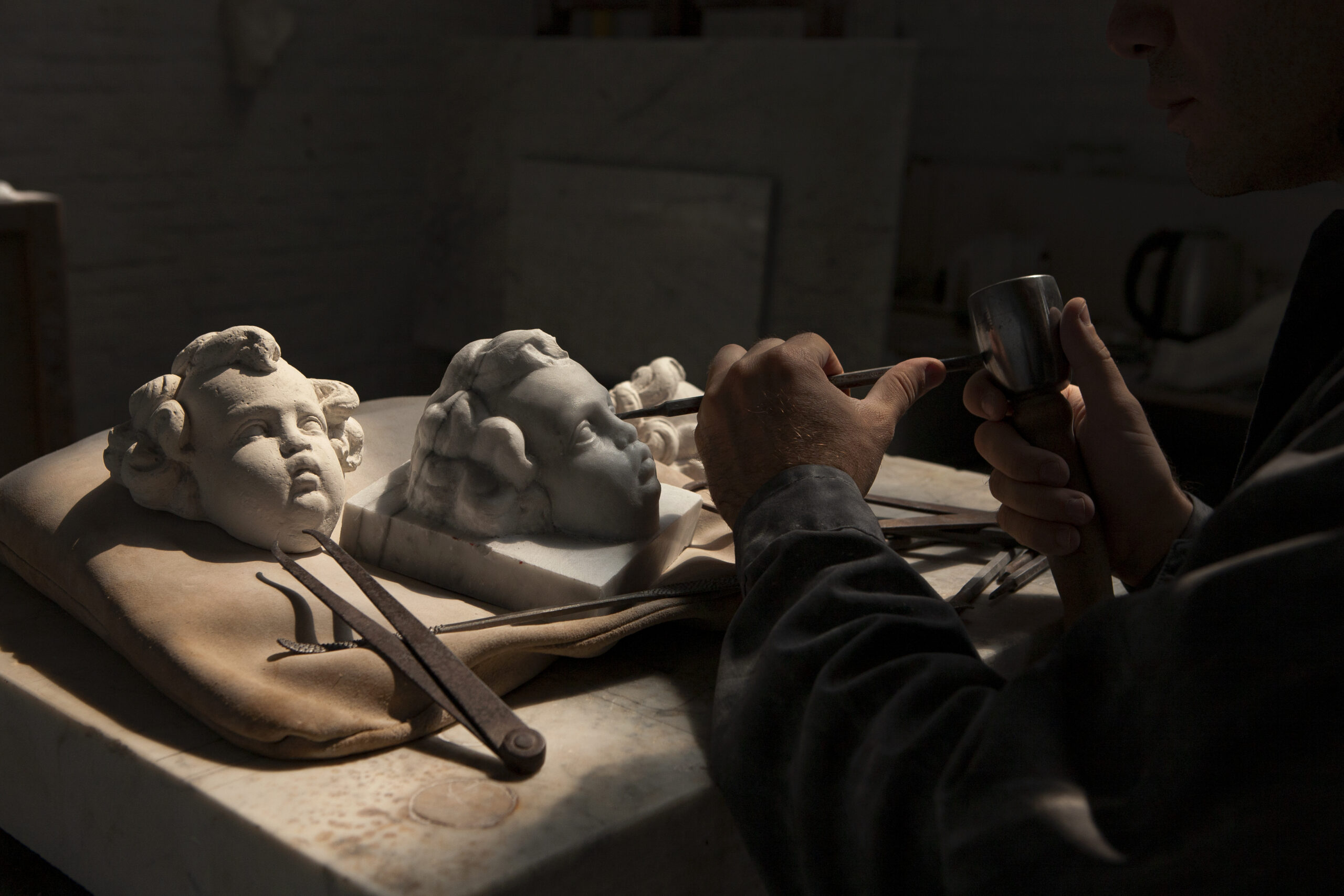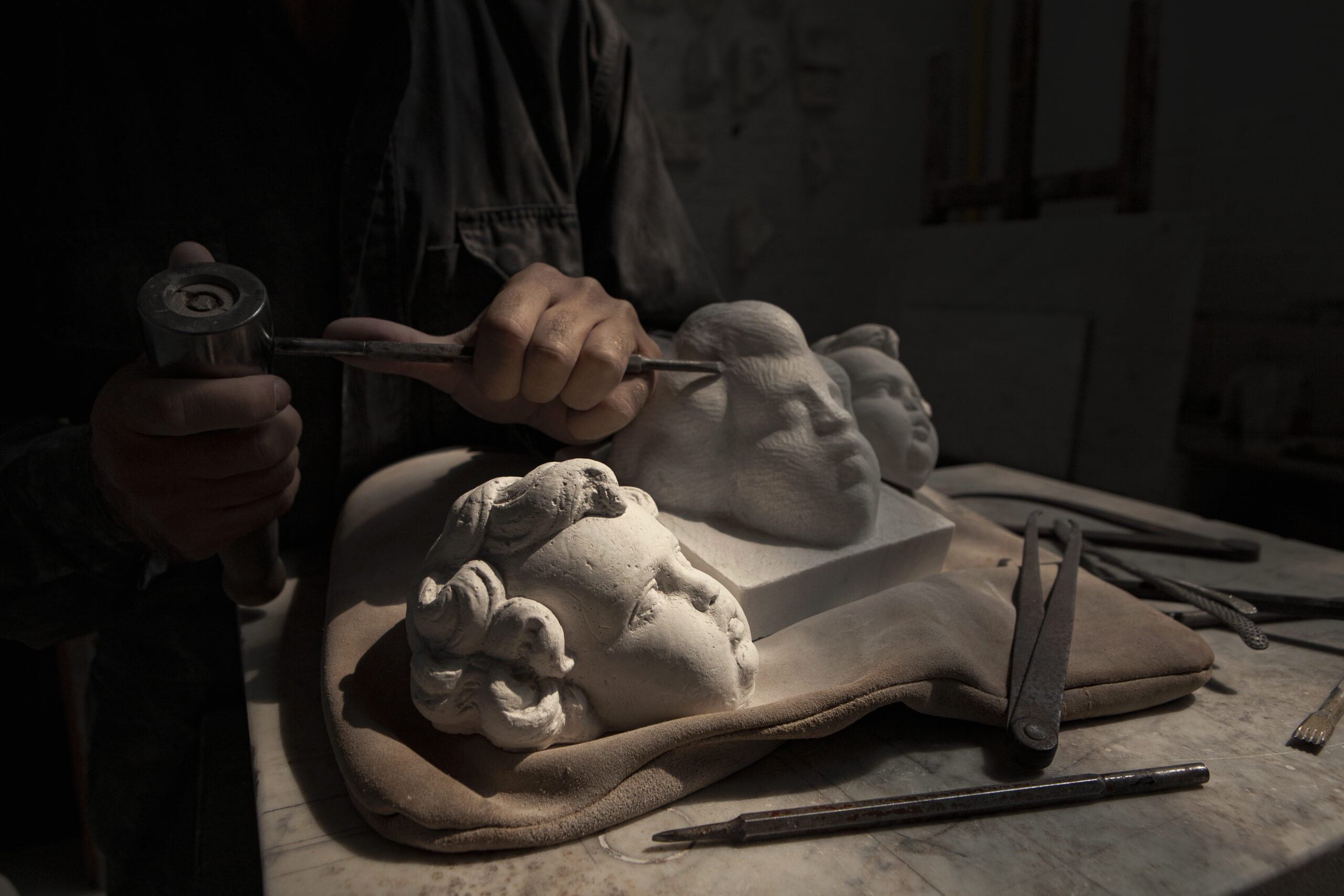 Given how its structure, this head is an optimal exercise for understanding the basic approach behind every stone sculpture as well as ideal for acquiring confidence with most tools of the trade such as various measuring methods and chisels.
Copying from a life-sized plaster example, the direct carving method will be applied — a unique technique favoured by Michelangelo. Each step will be illustrated by three-dimensional guiding samples that will be thoroughly discussed throughout the process.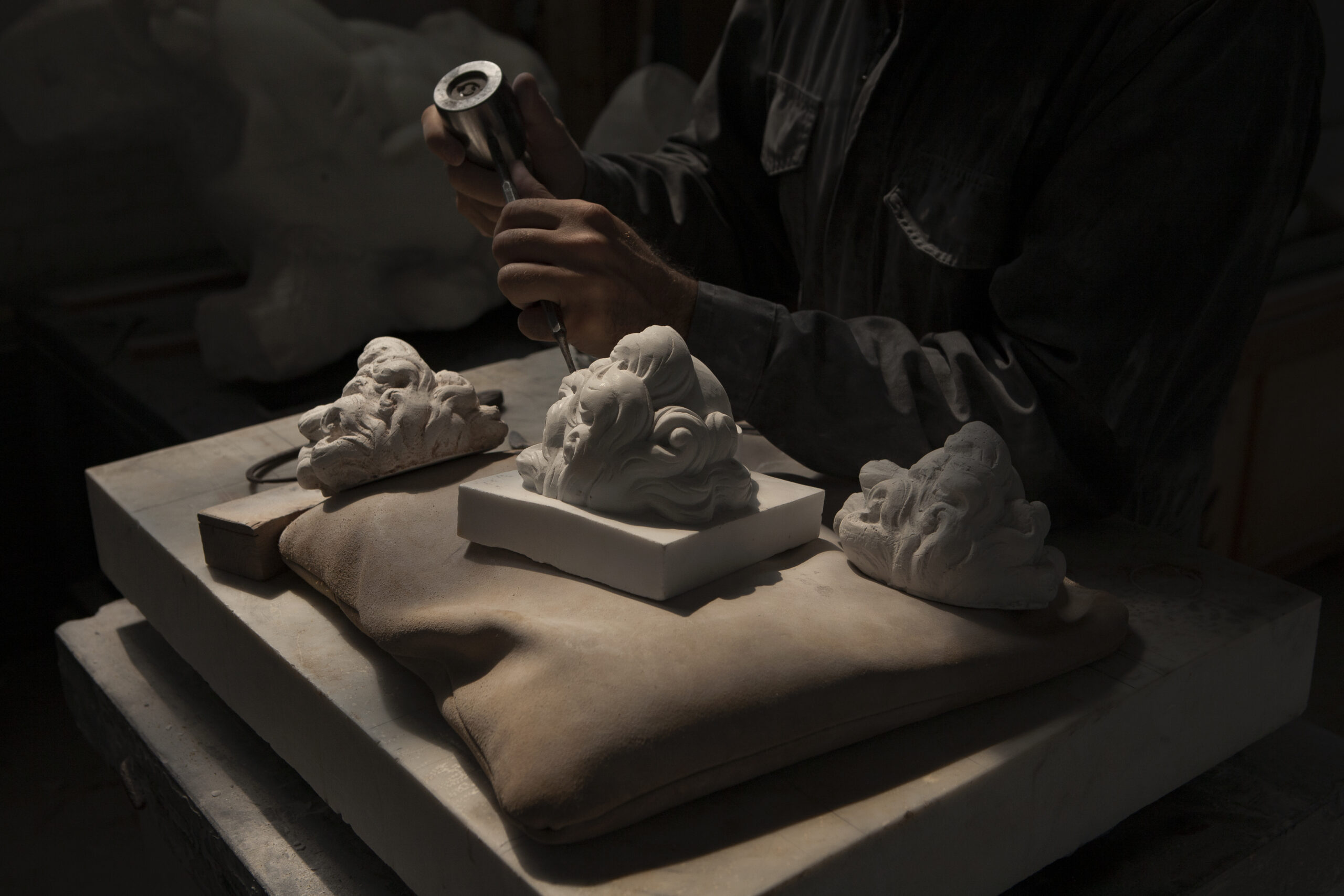 Inside this course
What's included
1. Welcome
2. Suggestions on how to get the most out of this course
3. List of required Tools
4. Stone specifications
5. Spheres Principle
6. Steps Principle
7. Highest Point Principle
8. Convex vs. Concave
9. Peeling the Onion
10. Stages Outline – Front View
11. Stages Outline – Side View
12. Stages Outline – Top View
13. Illustrated Diagrams and structure of the Mouth
14. Illustrated Diagrams and structure of the Nose
15. Demonstrations of applied Principles
16. Video Lesson 1: Tools overview. - 17 min.
17. Video Lesson 2: Preparing the Stone. - 5 min.
18. Video Lesson 3: Drawing the Grid. - 55 min.
19. Video Lesson 4: Measuring the Height. 12 min.
20. Video Lesson 5: Transposing the Gridlines onto the Stone. - 20 min.
21. Video Lesson 6: Marking the Baseline. - 5 min.
22. Video Lesson 7: Attaching the Stone. - 24 min.
23. Video Lesson 8: Carving the Baseline. - 54 min.
24. Video Lesson 9: Carving the first Hemisphere - 422 min.
25. Video Lesson 10: Carving the first Subdivision. - 161 min.
26. Video Lesson 11: Carving the second Subdivision. +/- 90 min.
27. Video Lesson 12a: Carving - Stage 4a. - 68 min.
28. Video Lesson 12ba: Carving - Stage 4b. - 97 min.
29. Video Lesson 12c : Carving stage 4c. - 125 min.
30. Video Lesson 13a: Carving stage 5a (the hair). - 163 min.
31. Video Lesson 13b: Carving stage 5b (the face 1). - 121 min.
32. Video Lesson 13c: Carving stage 5c (the face 2). - 82 min.
33. Video Lesson 14: Carving the left eye. - 128 min.
34. Video Lesson 15: Carving the right eye. - 60 min.
35. Video Lesson 16: Carving the nose and mouth. - 82 min.
36. Video Lesson 17: Carving finishing the face. - 70 min.
37. Video Lesson 18: Finishing the mouth. - 63 min.

The last plaster cast to the far right (final stage) is included in the course.
For an additional 99 euro (shipping included) you can order the full set of all the six stages of the work.
This online class will mainly consist of high-quality instructional videos that demonstrate the whole carving process of the little head in detail. You will be able to watch Athar carve the whole exercise in real time from close-up and from an ideal vantage point. During the process, Athar will provide detailed explanations of his actions and guide you through each step. The course also includes downloadable sample sheets that complement the instructional videos.
Following the step by step process, the course will enable you to carve the Putto in your own workspace and according to your own tempo. You can share the process with Athar through pictures and videos and he will be available through online video calls to answer your questions and help you out with additional comments and demos where needed.
It's like you're in class, except that you will be able to engage according to your agenda without missing out on anything!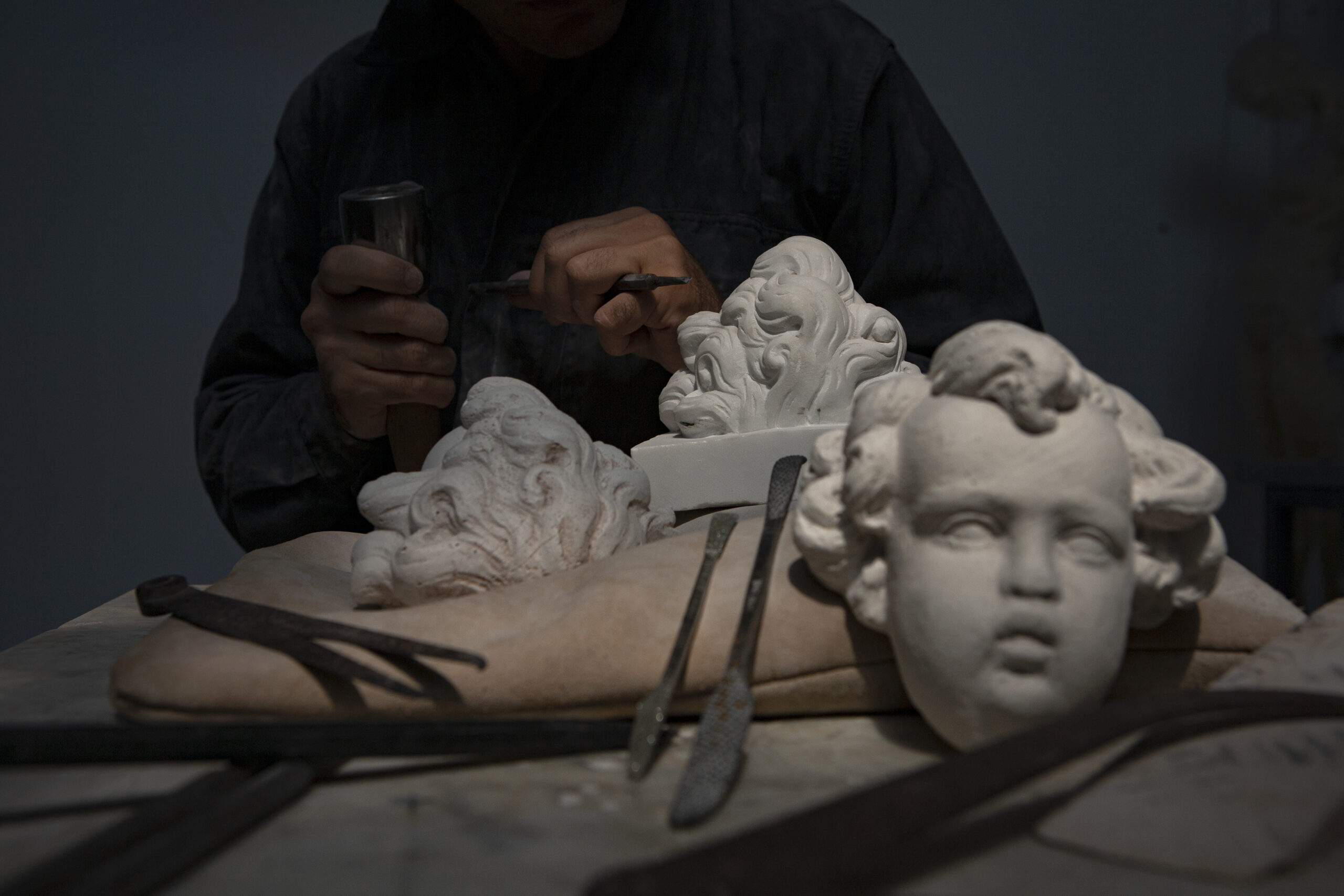 Who is this for
For anyone who wants to take sculpture to the next level
Though possible for the unexperienced but enthusiastic beginner, this course is designed for the intermediate student. Especially if you are considering taking stone carving to the next level. But it will require some serious engagement and endurance.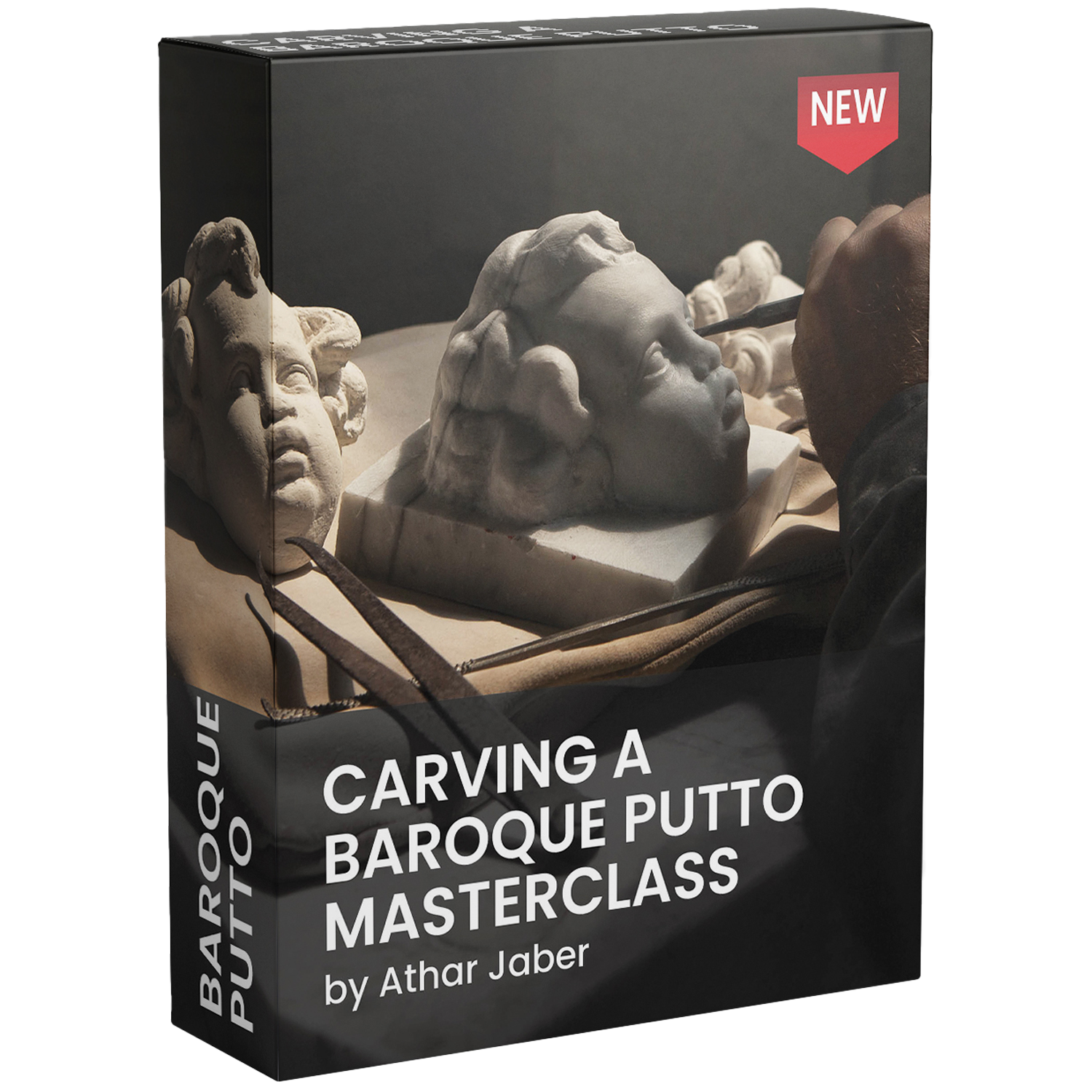 Baroque Putto
Challenge your limits and develop your skills. This exercise will forever change the way you look at sculptures.